PROBLEMS?
Call our helpline:
1 866 592 7879
Local clients please call:
1 902 444 7879
BIRT Reports for
Maximo®
Get more value from your Enterprise Asset Management (EAM) strategies with IBM Maximo Asset Management by getting support and performance-boost for your embedded BIRT reports in Maximo 7. Increase the productivity of your enterprise assets by providing all stake-holders in your EAM process the power to visualize, track and manage asset management initiatives by instantly turning on powerful dashboards and scorecards, business analytics, interactivity and ad hoc reporting using BIRT.
BIRT provides quick time to value and the ability to maximize return on asset management by making Maximo information more usable and available to a wider audience, and by boosting user productivity and improving decision making.
BIRT is an Eclipse-based, open source data visualization and reporting technology. It was founded and is sponsored by Actuate; IBM has also participated in the development of BIRT embedding it in Maximo as the primary reporting solution. BIRT provides tools for organizations and developers to add a variety of rich interactive reports, analytics and dashboards to web and mobile applications.
While Maximo comes out of box with a long list of included Birt Reports, MGI can develop custom reports to meet the demands of your business.
*Ask us for a free consultantion on your reporting needs.
Versions:
BIRT 3.7.1 is used beginning with Maximo 7.5.0.3. BIRT 3.7.1 is based on Eclipse 3.7.1.
BIRT 2.3.2 is used in Maximo 7.5.0.0 thru 7.5.0.2. BIRT 2.3.2 is based on Eclipse 3.4.2.
BIRT 2.3.2 is used beginning with Maximo 7.1.1.5. BIRT 2.3.2 is based on Eclipse 3.4.2.
BIRT 2.1.2 is used from Maximo 7.1 through 7.1.1.4. BIRT 2.1.2 is based on Eclipse 3.2.2.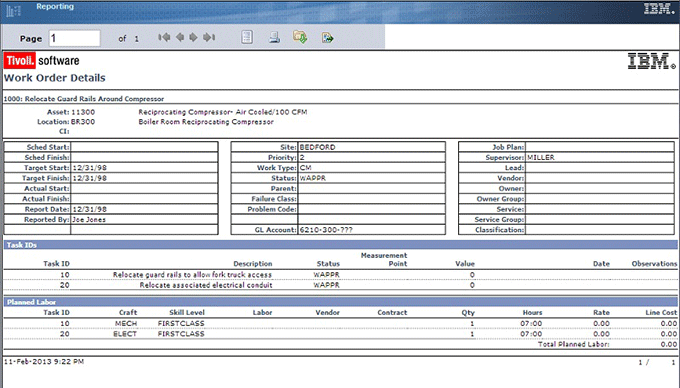 MGI is always at your service for:
IBM Maximo L1 & L2 Support
MGI TruSupport on Demand
General Inquires