PROBLEMS?
Call our helpline:
1 866 592 7879
Local clients please call:
1 902 444 7879
IBM Maximo®

Enterprise Asset Management

Maximo® Asset Management software unifies comprehensive asset life cycle and maintenance management on a single platform.
Maximo® provides insight for all of your enterprise assets, their conditions and work processes, for better planning and control.
Manages asset deployment, specifications, monitoring, calibration, costing and tracking from a single system
Provides enterprise asset management software for long and short-term planning, preventive, reactive and condition-based maintenance, schedule management, resource optimization and key performance indicators
Plans inventory to meet maintenance demand, making the right parts available at the right location when needed
Manages vendor contracts with comprehensive support for purchase, lease, rental, warranty, rate, master, blanket and user-defined contracts
Aligns service levels with business objectives by defining service offerings and establishing service level agreements (SLAs)
Maximo Architecture is built on future-ready technology. Designed with a J2EE component-based architecture, Maximo can be deployed on a single machine for small to mid-sized companies, yet its scalability and performance meet the demands of global, distributed enterprises with multiple organizations and sites, that operate using multiple languages and currencies.
The following Industry Solutions and Add-on modules are available to extend Maximo capabilities in your Industry.
Industry Solutions include: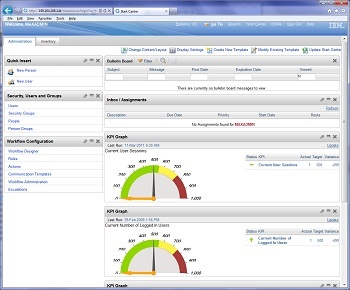 Maximo Health, Safety and Environment Manager
Maximo for Utilities
Maximo for Oil & Gas
Maximo for Nuclear Power
Maximo for Life Sciences
Maximo for Government
Maximo for Transportation
Maximo Data Center Infrastructure Management
Add-ons include:
Maximo Spatial Asset Management
Maximo Space Management for Facilities
Maximo Change and Corrective Action Manager
Maximo Linear Asset Manager
Maximo Calibration
Maximo Asset Configuration Manager
Maximo Service Provider
Maximo Mobile Work Manager
Maximo Mobile Inventory Manager
For more information Contact MGI or view the online information at IBM Maximo Asset Management.
MGI is always at your service for:
IBM Maximo L1 & L2 Support
MGI TruSupport on Demand
General Inquires