PROBLEMS?
Call our helpline:
1 866 592 7879
Local clients please call:
1 902 444 7879
Asset Management

and Optimization

Whether you're faced with the challenges of reliably starting up a new facility, maximizing the performance of existing operations or extending the life of an aging plant. Asset Management and Optimization is critical to achieving your goals.

In mature organizations there comes a point when you have to invest in the predictive technologies that match your elevated expertise and work processes. After all, running to failure or a historically based preventive schedule are hardly the means to attain peak performance and improve availability.

MGI's consultants and partner organizations deliver world-class services and innovative technologies to increase the availability and performance of production assets.
The result – improvements to your bottom line.
MGI Maintenance Group Inc. consultants have been involved with asset management, maintenance management since 1995. We have seen the market grow, expand, change and evolve into what IBM has now created, the "Smarter Planet".
We at MGI are very pleased to be a partner of IBM's and have fully committed to the "smarter cities" campaign, with IBM Maximo as our foundation for creating "smarter assets" and "smarter infrastructure". We have entered into an era of "Innovative Enterprise Asset Management" limited only by creativity.
Customers are demanding solutions that address the "BIG DATA" concerns. They have many forms of information, but what do they do with it? How do they get at it? These are concerns that, we believe, IBM Maximo will alleviate providing a strong foundation to Operational Excellency.
Innovative Enterprise Asset Management is something MGI would like to talk to you about. Be creative! Be a leader!
MGI and IBM Maximo can help you achieve your goals.
Smarter

Cities
Safe neighbourhoods. Quality schools. Affordable housing. Traffic that flows.
It's all possible.
Infrastructure. Operations. People.
What makes a city? The answer, of course, is all three. A city is an interconnected system of systems. A dynamic work in progress, with progress as its watchword. A tripod that relies on strong support for and among each of its pillars, to become a smarter city for all.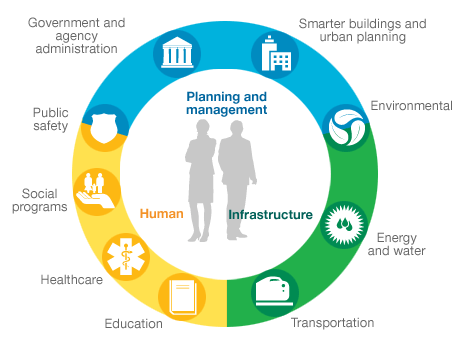 Smarter cities drive sustainable economic growth and prosperity for their citizens. Their leaders have the tools to analyze data for better decisions, anticipate problems to resolve them proactively and coordinate resources to operate effectively.
As demands grow and budgets tighten, solutions also have to be smarter, and address the city as a whole. By collecting and analyzing the extensive data generated every second of every day, tools such as the IBM Intelligent Operations Center coordinate and share data in a single view creating the big picture for the decision makers and responders who support the smarter city.

MGI is always at your service for:
IBM Maximo L1 & L2 Support
MGI TruSupport on Demand
General Inquires